Malibu Wellness has some new products specially designed for swimmers. Check out this chlorine test that puts the Malibu After-Swim Solution to work against chlorinated pool water. Notice how just a few grains of the powdered solution is effective at neutralizing the chlorine.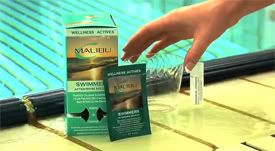 Also, the end of the video shows how the product works. It starts as a powder (fresh-dried vitamin complex), then turns into a gel solution in the palm of your hand. If just a pinch of powder removes the chlorine from a cup full of water, just imagine how effective the entire packet is at removing chemicals from your hair.
The Malibu After-Swim Solution packet featured in this video is available online from Kast-A-Way Swimwear. We also recommend a Malibu MakeOver hair service at your local salon.